Clarise Dägne Hälse
[[[IMG]http://img18.imageshack.us/img18/4787/2z8p7yc.jpg[/IMG]|250px]]
Bergen in her original design.

Represents:

Bergen, Norway's second largest city

Age(appearance):

17 years

Hair:

Peroxide Blonde

Eyes:

Light Blue

Height:

5ft 1" (155cm ))

Birthday:

2nd of August

Gender:

Female
Clarise Dägne Hälse is a fanmade character in the series Axis Powers: Hetalia/Hetalia: Axis Powers. She is the representation of Bergen in the Hetalia College RP.
Appearance
Edit
Bergen has long blonde hair, light blue eyes and pale skin. She is often seen in her bunad (the national dresses of Norway) or on some occasions, a long sleeved white button up shirt with a Norwegian flag on the back, and capris
Personality
Edit
Bergen is a nice and caring person, but can be rather shy and serious when studying. She is stong and speaks of her mind and is known for her constant habit of blushing from flattery. Her interests are reading books, playing piano, drawing and running.
Realationships
Edit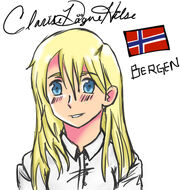 Elsa Claire Halse (Trondheim)
Edit
Bergen's 10 year old little sister. Elsa and Bergen were seperated for some years due to nazi invason, therefore she stayed at Alesund until the war was over. Elsa tends to constantly cling to her older sister, always interupting her studies, but Clarise(Bergen) doesn't seem to mind for she would do anything for her younger sister. The bond they share is as deep as family love comes.

Ivar Grytten (Ålesund)
Main article: Ålesund
Bergen and Ålesund share a strong realationship with thier marriage and loves eachother deeply. Bergen has him closely to her heart and wants to be together with him forever.
Martine Marie Grytten (Kristiansand)
Edit
Main article: Kristiansand
Ivar's little sister. Bergen has had a couple of moments to talk with her. She supports the relashionship Bergen and Ivar share and calls Bergen "Anee-Chan"! Bergen sometimes feels a bit insecure when around her for shes always so hyper, therefore wonders what makes her so happy.
Oslo
Bergen's mother and guardian since her father (Nidaros. Was Old Trondheim in the Viking-Period to the end of middle ages) became estranged and passed away from sickness. Due to many complications in the relashionship the parents shared, Bergan still doesn't literally know who he was. Mama Oslo is a rather wealthy woman who paid for Bergen's tripand tuition to Hetalia College.

Norway
main article: Norway
Bergen adores Norway, but feels ignored by him, which makes her feel somewhat unaccepted by him.

Thor Buraas Traa (Svalbard)
Main article: Svalbard
Bergen's third friend made at Hetalia College. Svalbard supports her realsionship with his older brother and refers to Bergen as Onee-Chan for being the only female in the "family".
Lilian Zwingli (Liechtenstein)
Liechtenstein is one of Bergens closest friends and also the first one. They seems to support eachother very much.
'
The city of Bergen, traditionally thought to have been founded by king Olav Kyrre, son of Harald Hardråde, in 1070 AD, celebrated its 900th anniversary in 1970.
Bergen features a temperate oceanic climate with relatively mild winters and cool summers.
In 1349, the Black Death was inadvertently brought to Norway by the crew of an English ship arriving in Bergen.