Israel (Ariel Levy)
Edit
Ariel levy is a fanmade character in the series of Hetalia Axis Powers/World Series. She represents the Jewish State of Israel.
Apperance
Edit
Her first apperance was in the comic strip "Ani ohev otcha" which literally translates to "I love you" in hebrew. This comic strip was the apperance of her life and America's lust for her.
She is shown to have Brown curly hair (which is about a little past her shoulders) and is usually held up in a ribbon that resembles the Israeli flag. She also is shown that when she is brought to America's presence to have a Tichel or a head covering on her head.
Her gowns are very modestly done, her arms are usually covered by a long sleeved to a little past her elbow, and if she wears a sundress she usually has a black shawl over herself. Her normal dresses are usually blue and white to resemble her country as well.
She has dark brown\black eyes'like most of the people in isreal.
Acessories for her are not nessessary, her only jewelery pieces are her earings (which are in the shape of the israeli flag and has the designs of the magen david and the blue and white stripes for the flag. And she also wears a magen david necklace upon her neck.
Marukaite Chikyuu (Israel/Isuraeru)
Edit
Romanji version
Edit
Oy Vey Aba Rotza wo choudai
Oy Vey Ima Oy Vey Ima
Mu kashi ni ta beta Matzo no ano aji wasu rera renain da
Marukaite Chikyuu
Marukaite Chikyuu
Marukaite Chikyuu
Boku Isuraeru!
Marukaite chikyuu
Jitto mite chikyuu
Hyotto shite chikyuu
Boku Isuraeru!
Aa hitofude de mieru subarashii sekai,
Watashi wa jibun no kazoku o aishite!
(ooku no kuni ga, dono yoo ni watashi wa reisei sa o tamotsu koto ga deki masu tatakau tame?)
Marukaite chikyuu
Marukaite chikyuu
Marukaite chikyuu
Boku Isuraeru
Marukaite chikyuu
Hatto shite chikyuu
Funzori kaette chikyuu
Boku Isuraeru!
Oobun chikagakeba
Kaoru shiawase no RECIPE
("Hiniku wa kaku shiaji sa")
Hadasamui fuyu ni mankai da
Kōsaten!
Hei hei Ach, Rotza wo choudai
tsude ni Achot, iretekurenai ka
Oi oi Saba, heiwa ga ichiban
Hai hai Tinoke (Nanika ga me mashu)
Naa naa Aba Rotza mo nomitai na

Oy vey Ima, Oy vey Ima
Mukashi ni tabeta Falafel no
Ano aji ga wasurerarenainda
watashi ha otouto wo nogasu ga!

Marukaite chikyuu
Marukaite chikyuu
Marukaite chikyuu
Boku Isuraeru

Aa hitofude de
Mieru subarashii sekai
Otonari-san wa Pare such ina da
Isuraeru!!!
Aa sekaijuu ni
Nemuru shiawase no Recipe
Kyou no unsei mo saikou da
Makenai ze!
L'chaim!
English Translation
Edit
Oy Vey Papa, I want wine
Oy vey mama, Oy Vey mama
I can't forget the taste of that Matzo that i ate the night before!
Draw a circle there's the earth
Draw a circle there's the earth
Draw a circle there's the earth
I'm Israel
Draw a circle there's the earth
Stare a while there's the earth
Should that happen to be earth
I'm Israel
Ah, a wonderful world,
That can be seen with a paintbrush
I love my family!
Many countries, how to fight I can remain calm?
Draw a circle there's the earth
Draw a circle there's the earth
Draw a circle there's the earth
I'm Israel
Draw a circle there's the earth
Step back, there's Earth
Lie on your back, there's Earth
I'm Israel
The oven acquaints you
With the fragrant recipe to happiness
("It brings out the taste of irony.")
The chilly winter is in full bloom,
The Crossroads
Hey hey brother, give me some wine
And next, sister, can you pour it in for me?
Oy, oy Grandfather, peace is the best
Yes, yes Sweetheart/Baby, (I think I'm seeing something)
Hey, Hey Father, have some Wine as well!
Oy Vey mama, Oy Vey mama
I can't forget the taste
of that Falafel that i ate a while back
My heart always aches,
but tomorrow is tomorrow
Draw a circle, there's Earth.
Draw a circle, there's Earth.
Draw a circle, there's Earth.
I'm Israel!
Ah, a wonderful world
That can be seen with a paintbrush
My next-door neighbor is Palestine
Israel!
Ah, throughout the world,
Sleeps a recipe of joy
Today my luck is great,
I can't be beat!
To Life!
Hebrew Terms
Edit
L'chaim (Hebrew: To life)
Aba (Hebrew: Father/Papa)
Ima (Hebrew: Mother/Mama)
Rotza (Hebrew: Want (female))
Falafel (Hebrew: a food)
Ach (Hebrew: Brother)
Achot (Hebrew: Sister)
Saba (Hebrew: Grandfather/Grandpapa)
Mazot (Hebrew: Unleavened bread/Flat bread without yeast)
Tinoke (Hebrew: baby)
Personality and Interests
Edit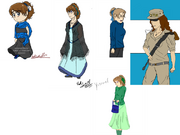 She is a shy and happy girl in a big world of people out to harm her. She was soon founded by the European Union after World War 2, mainly she calls Germany her "Aba" or father, for many germans had settled her after the fact of being persecuted. She is one to fight for her protection and the protection of her allies, which is usually the case.
She loves the colors Blue, Silver and White and is proud to show it. Most of her singing abilities are subtle and humbled. Her favorite song would have to be about her capitol Jerusalem, which happens to be "Yerushalayim Shel Zahav" or "Jarusalem of Gold". Of course, her husband America would mess that around for his fancy.
She can be seen as the Americanized nation, because she is just like him at various times. Loud and childish, but most of the time she is shy and collected. She is crazy about Latkes and Hallah candy. Which is honey candy and potato pancakes. She is a tech geek, creating a lot of technology which Alfred likes using, such as his phone.
Relationships
Edit
Ludwig (Germany)
Edit
main article: Ludwig
Ludwig gets more than a little tense when Ariel is around, as he doesn't know when she's going to become immensely angry and snap at him. Ariel has made it her goal to make Ludwig feel guilty about what he's done to her, no matter how in-the-past those events are.
Alfred F. Jones (America)
Edit
main article: Alfred F. Jones
Alfred and Ariel have a strong bond/relationship and are very close allies and friends, but Alfred wishes to take their friendship farther than ever before, but is extremely and deeply friend-zoned. He hasn't stopped trying to get his 'Lois Lane/Peggy Carter', though. Ariel is completely unaware of his intentions or advances, and harbors a tiny crush on him.