Kristiansand

"LET'S DO SOMETHING FUN!

Human Name:

Martine Marie Grytten

Gender:

Female

Age(appearance):

15 years

Height:

165cm

Hair Color:

Light Blonde

Eye Color:

Aqua
Maritne Grytten is a fanmade character in the series Axis Powers: Hetalia/Hetalia: Axis Powers. She is the representation of Kristiansand in the Hetalia College RP.
Appearance
Edit
Kristian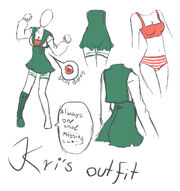 sand has pale skin, long blonde hair with pink shadows, aqua eyes, and very red cheeks. The pink shadow effect in her hair is a effect she created herself, " Because it's fun!".
Her cheeks are always red due to her beeing in constant activity
She wears a green, saylorish outfit and peach underwear.
Personality and Interests
Edit
Krii is a cheerful and careless young girl. She likes to do exciting stuff like hangliding, diving and mountain climbing.
She also loves animals and festivals. Whatever makes sound.
People seem too look at Krii as a freak and impossible to be with, so she dosen't have a lot of friends. or, she does if you count in animals;;
Relationships
Edit
Ivar Grytten (Ålesund)Edit
Main article: Ålesund

Ålesund is Krii's blood brother whom she loves with all of her heart. She wants to spend so much time as she can with him, and seem to support most of the things he does.
Krii wants to stay close to Åle because he IS the closest friend she has, even tough they're not so ope towards each other
-Krii likes to tease Åle with reffering to "Adult stuff"
-Ålesund's nickname is Åcchan, but Krii mostly reffers to him as Onii-chan
Clarise Dägne Hälse (Bergen)Edit
Main article: Bergen
Bergen is Ålesunds wife and Krii's sister in law. She looks at her as her older sister and calls her onee-chan. She supports Bergen and Ivars relationship, though she likes to make fun of it too. Bergen is her third best friend and holds her close to her heart -Krii's nickname on her is "Becchan"
Thor Buraas Traa (Svalbard)Edit
Main article: Svalbard

Svalbard is Krii's older brother. Not by blood tough.
-His nickname is "Svacchan"
Lilian Zwingli (Liechtenstein)Edit
Liech is Krii's "BFF", even tough they don't talk much...
-Her nickname on her is " Licchan "
Roar Jenssen(Bodø)Edit
Krii's Ex