New York

Name

Emma Jones

Age

21

Height

5'5"

Pounds

120

Birthday

July 26th
New York is a state in America and one of America's younger siblings. New York is famous for Broadway Shows, Lady Gaga, Madison Square Garden, New York City, Wall Street and the Statue of Liberty.
Looks
Pixie cut brown hair, blue eyes and a mole under the right side of her mouth.
Personality and Interests.
Emma loves animals and pizza. She also likes shopping her style is "Quirky, but sensible. She's a big nerd and ALWAYS goes to Comic con. She loves watching Broadway musicals and American Horror Stories, she's a fan of horror and around Halloween she heads out to spooky mansions. She also can see paranormal creatures, mainly ghosts and spirits and often plays pranks on her brother's with them.
Relationships
Alfred F. Jones (America)-Alfred and Emma have a very good brotherly-sisterly relationship, he often vists her and they often end up watching broadway musicals and 'scary' movies.
Matthew Williams (Canada)-Since Emma borders with Canada she sees her uncle a lot and can recognise him often. However, she sometimes mistakes him for Alfred.
Tim (the Netherlands)- He's the one that first had settled in New York, making New York quite fond of him. They have a great father-daughter relationhip.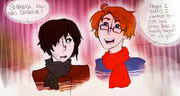 Trivia
Emma is her name as being one of the most popular names in New York
Emma's birthday corresponds with the day New York became the eleventh state of the union.